Title: Truest
Author: Jackie Lea Sommers
Genre: YA realistic contemporary
Publication: September 1st, 2015
Publisher: Katherine Tegen Books
Amazon | Barnes & Noble | Book Depository | Books a Million | Fishpond | Kobo | Powell's | HarperCollins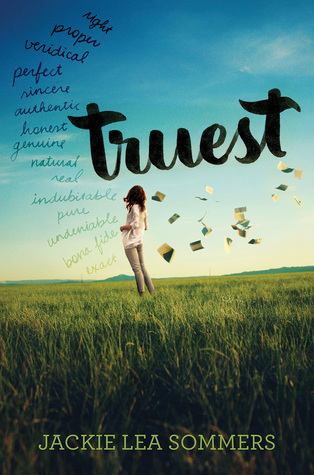 Silas Hart has seriously shaken up Westlin Beck's small­town life. Brand new to town, Silas is different than the guys in Green Lake. He's curious, poetic, philosophical, maddening– and really, really cute. But Silas has a sister– and she has a secret. And West has a boyfriend. And life in Green Lake is about to change forever.
Review
Westlin was expecting this summer to be normal and things to go smoothly as planned. But her best friend leaves for a vacation trip and her boyfriend is doing a job to earn enough money to own his personal car. As, expected her dad stays busy at church, to console and preach people. Above all, a new kid in town and Westlin happens to meet him first.  Fate aligns the path of West and Silas, a new boy in town. Silas also happens to share love for reading and literature just like West.
There were times when I wanted to slap West as she is selfish and mostly wanted attention of everyone around. She indeed cheated on her boyfriend, Elliot. She never truly loved him and maybe she stayed with him all this time because Elliot has put West first in his life. West encouraged Silas's flirtations while they were friend zoned and co workers whereas Elliot already guessed that West is interested in Silas Hart.
The character of West is annoying at times, but this is what makes her a real example to an extent. I liked the character of Silas and his goofiness is adorable. Whereas, his sister Laurel irritated me often. I don't know if the condition like hers actually exists. But, I have seen my grandmother saying unusual and delusional stuff like her and Gordon.
Truest is a light read with thought-provoking concept. It does makes you question and explore the philosophy of life.
Rating : 3.5 out of 5

About the Author
Jackie Lea Sommers lives and loves and writes in Minnesota, where the people are nice and the Os are long. She is the 2013 winner of the Katherine Paterson Prize. She dislikes OCD, horcruxes, and Minnesota winters. She likes book boyfriends, cranky teenagers, and Minnesota springs. Truest is her first novel.
www.twitter.com/jackieleawrites
www.facebook.com/jackieleawrites
www.instagram.com/jackieleasommers
www.jackieleasommers.tumblr.com
Read an excerpt from Truest:
It didn't take long to confirm that Silas was absolutely crazy.
One morning he showed up at my house wearing an honest­to­goodness windbreaker suit straight out of the nineties: purple, mint green, and what is best described as neon salmon. I curbed a grin while Silas gathered our detailing supplies from my garage. "What?" he deadpanned. "What are you staring at?"
"Your windbreaker is just so …"
"Fetching?" he interjected. "Voguish? Swanky?"
"Hot," I said, playing along. "The nineties neon just exudes sex appeal."
"Well, I thought so myself."
And after the sun was high in the sky and the pavement was heating up, he took off the windsuit, revealing shorts and a New Moon T­shirt beneath, Edward Cullen's pale face dramatically printed across the front. "Vader's competition," he said, shrugged, and started vacuuming the floors of the Corolla left in our care.
He also talked about the strangest things: "Can you ever really prove anything? How?" or "I read about this composer who said his abstract music went 'to the brink'—that beyond it lay complete chaos. What would that look like? Complete chaos?" or "You know how in Shakespeare Romeo says, 'Call me but love, and I'll be new baptized'?  He's talking about his name, but baptism's bigger than that; it has to be. It's about identity, and wonder, and favor, you know?" or "A group of moles is called a labor;  a group of toads is called a knot. Who comes up with this stuff? It's a bouquet of pheasants, a murder of crows, a storytelling of ravens, a lamentation of swans. A lamentation of swans, West!"
The Giveaway
One signed and annotated hardcover of Truest (US Only)